Essential Guide For Your Business Trip To China
Business By China Car Service Comments Off on Essential Guide For Your Business Trip To China
China has certainly become a popular destination worldwide in the recent years. The country has attracted an astonishing 141 million visitors in 2018 alone. The consistent growth of China's business and tourism attractions is largely due to the importance China sees in customer service and in providing services in English language. In most of the business districts and tourist hubs, across the cities, there are now services designed to help visitors and locals with their shopping, traveling or doing business. If you're visiting China soon, this article points out how to prepare for your stay. 
Getting Started – Visa to Mainland China
If you hold either a U.S. or EU passport, you will not need a visa to enter Hong Kong. US citizens can enjoy their visa-free stay in Hong Kong for up to 30 days, and EU citizens for up to 180 days. However, you will need to obtain a visa if you are travelling to mainland China. For only one entry to China you can apply for a one-entry visa, while for more than one entry, apply for a multiple-entry visa.  
Visa requirements to enter China vary greatly from country to country. For example, British passport holders can only obtain a multiple entry visa after obtaining at least two 30 day single entry business visas previously. American passport holders, on the other hand, can obtain a 10 year, multiple entry business visa without holding any previous visas.
For most recent information check the Chinese visa requirements.
What You'll Find At Airports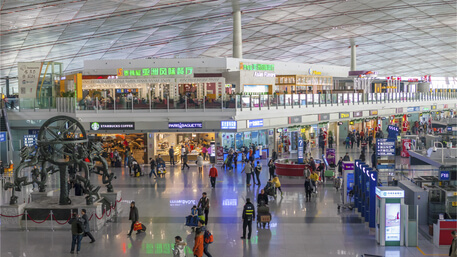 Unless you're arriving by cruise ships at one of China's coastal cities, chances are the airport will be your first experience of Chinese soil. Those who often travel enough may feel that every airport is the same. China, however, may be a little different. Despite the upturn in customer service, China's airports and domestic carriers are still plagued by flight delays. It's not uncommon to experience 2 or 3-hour delays for short domestic flights. As a result, you might find yourself getting comfortable in one of the airport lounges. Luckily China has some of the best airport lounges in the world. Most of the lounges will offer the usual wifi, food, and comfort. But some even offer dedicated office space, equipped with secretarial services and just about any equipment you can imagine.
If it's your first time in China, you'll be happy to know that signboards and announcements are done in both English and Mandarin. The boards themselves may seem overwhelming at first glance, but when in doubt there are always a number of help desks or airline representatives who are there to help with anything from general flight information, to writing your hotel or office address down in Chinese to show to  your taxi driver (always a good idea). Most will have some knowledge of the English language, and if not, there are many translation apps that can be very helpful when trying to communicate your destination with the taxi driver.
As with most big airports across the world, China's also offers some "retail therapy", with numerous duty-free outlets to choose from.  

Preparing for a trip to China? A private transfer is the safest, quickest way to travel from airport to the city. China Car Service is a trusted transportation service helping business travelers for almost two decades. We provide door-to-door service at competitive prices. 
Make your journey stress-free and contact our 24/7 team at Bookings@ChinaCarService.com with questions, or get a quote below.  Use this promo code: 10CARBLOG to get a $10 discount on your 1st service.
Traveling Around China
By Plane:
If you're planning to travel around China with domestic flights, it's highly likely to experience delays on your trip. According to the latest figures, less than a fourth of all domestic flights in China depart on time. Hangzhou airport is considered to be the least punctual, since only 42% of its flights depart on time, which is the second-worst figure globally. Frequent travelers to China usually prepare an extra set of clothing in their carry-on luggage, in case they are caught by delays that leave them in a hotel for an extra night. To avoid other unexpected surprises on your luggage restrictions and airline food, read useful tips for air travel in China.
Renting A Car:
The first thing you'll want to do after a long flight is likely to head towards your hotel to freshen up and get some rest. Hiring a car in China to get there is hardly an option for foreign visitors. China's roads are very different from those back home and as such tough to master for those not accustomed to chinese driving rules. Signposts in Mandarin are also making it very difficult to navigate the streets unless you can read the Chinese characters. Furthermore, you'll need to obtain a Chinese driving license, since international permits aren't valid in China.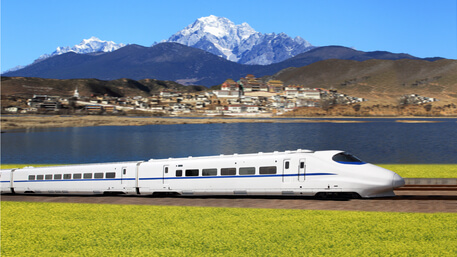 Using The Trains:
China truly has an impressive and modern high-speed rail network with remarkable high-speed trains making the train travels as fast and comfortable as ever. Just as with any transport option in China, there are a few things to keep in mind before buying a train ticket. The terminals themselves are huge and often confusing. If you're hopping on board a train during peak hour, brace yourself for overwhelming crowds. A nation as populous as China is bound to endure some transport headaches, especially during the daily peak hours. 
Buses: The buses are frequent and connect almost region of China. While a bus ride is the most affordable method of transport it can, often be the longest and potentially a very uncomfortable transportation option. Bus tickets being competitively priced might make it difficult to find an available seat to reserve at any time during the day.
Taxis: Before you decide to hail a taxi in China there are a few things to know. Some drivers may not offer a ride for the foreigners just for the sake of avoiding the hassle of having to speak in a foreign language. Taxis in Shanghai are consistently rated least satisfactory, and one of the reasons is taxi drivers who blatantly refuse to accept the ride because they find the desired location distance too short for them to drive. In case you didn't already know, refusing of fares is illegal throughout China. Beware of drivers trying to rip you off, by charging extremely high fares.
Using A Car Service: The private car offers by far the highest level of convenience and comfort. No waiting, no queuing, and no changing modes of transit. It assures that you complete the journey quickly without expended effort. The private car service is highly recommended for time-sensitive business travelers, travelers with a lot of luggage, families traveling with children, and seniors.
To book a car all you visit a car service website and select your pick-up location, desired time of pick-up, and the destination.  
Language Barrier
Chinese culture is vastly different to what western visitors are accustomed to, but not impossible to become comfortable within.  The language is an obvious barrier, but one that can easily be overcome by a bit of research. There are multiple ways to make your trip to China stress-free. Good starting point is learning a few basic phrases that will help you communicate with the locals.
Here is the list of helpful phrases you should know when going to China:
Thank you!

(xiè xie) 谢谢!
This is just a simple way of saying thank you.
Hello

(nǐ hǎo) 你好。
Hello in Chinese combines the words 'you' and 'good'. To ask someone 'How are you?',
just add the character '吗' (ma). This character is used when asking a question:
OK/Good

(hǎo) 好 / (hǎo de) 好的

Not OK/ Not Good

(bù hǎo) 不好

Do you speak English?

(nǐ huì shuō yīng yǔ ma?) 你会说英语吗?
If they cannot speak English, they will probably respond with:
I can't speak (bú huì) 不会.
I'm sorry, I don't understand

. (bù hǎo yì si, wǒ méi tīng dǒng) 不好意思, 我没听懂.
This sentence comes in very handy in situations where you may not understand what the person is telling you.
How much is it

? (zhè ge duō shao qián?) 这个多少钱?
Bargaining is very common in China, so this question is a great starting point when beginning a conversation with the seller. 
You're welcome.

(bú yòng xiè) 不用谢.
Translated this phrase means "'no need for thanks', this is a common response to 谢谢 (xiè xie) – thanks.
In addition to learning some basic Mandarin, there are some useful apps that help translate signs or phrases into Cantonese or Mandarin. One of the ways to better navigate around China is to hire an English-speaking driver, translator or an assistant from a reputable service provider that will make your trip hassle-free.
Business Culture
The basic phrases in Mandarin can also help make a good impression on your Chinese partners too. However, if you travel to China for business purposes, you will find it useful to know more about Chinese business culture. For instance, Chinese people may ask such questions as "Where have you been?" and "Have you eaten?" which is similar to Westerner's 'How are you?'. As a response you can offer a smile and follow with  'yes' or 'thank you'. The Chinese don't tend to say 'no' as it causes embarrassment and "loss of face". They would rather say 'Yes, but it may be difficult', in case they don't agree on some conditions. Although that may seem like a positive response, it most probably means no. The Chinese also nod as an acknowledgement that you are being heard, rather than symbolizing 'yes' so it's important to take note of that. If you plan to successfully conduct business in China, you are encouraged to develop insights into the Chinese business culture and social etiquette to avoid misunderstandings and form good business relationships.
Hotels & Restaurants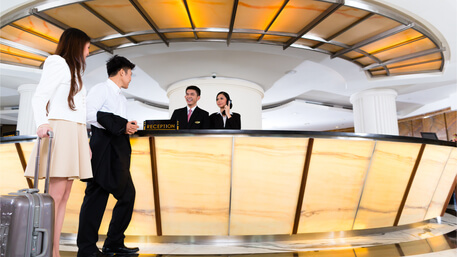 A convenient, comfortable hotel room is essential during travels to any country in the world. Most Chinese cities offer a vast amount of hotels to choose from, and most of them offer plenty of commodities to enjoy after a long day of work and meetings. 
 China's internet restrictions have Facebook, Twitter, Gmail and most of popular Western apps completely blocked throughout the country. Luckily certain hotels are accustomed to housing business travelers from abroad, and to bypass those restrictions by offering a VPN within their hotel lobby's and occasionally even the rooms themselves. If your company has booked you a four or five-star hotel, apart from the usual luxuries, the biggest comfort will be the staff who can speak fluent English. If you're in China for an event, like the Canton Fair held every year in Guangzhou, the hotel staff are often able to help you arrange tickets, transport or even facilitate secretarial services while you are away from the office.
Every Chinese city offers a wide variety of restaurants to eat in when the business day is over. If you're planning on wining and dining with potential or existing Chinese business partners the options are many. Hong Kong for instance, is famed for having some of the best entertainment spots in China. The views of a naturally scenic city, from the top of any one of the iconic skyscrapers on offer, is truly breathtaking. They are bound to leave an impression on you and your guests. For those concerned about adapting to a Chinese diet while visiting, it may be surprising to know just how much western influence there is in China's cuisine scene. Many major cities have Italian, French, Mexican, Indian, etc. cuisine to choose from. There are also the biggest global fast food outlets present in almost every corner of Chinese cities which are great for a quick and on-the-go meal. 

Attending Trade Fairs
China has 1000's of trade fair each year across every industry imaginable which bring millions of visitors. The Canton Fair, which takes place twice a year attracts over 190 000 visitors. Trade shows are a great way to meet new suppliers and catch up with existing supplier all in one place. Meeting face to face and grabbing a meal or a drink together goes a long way. These meetings in person help strengthen business relationships and ensure a better understanding of future steps and goals on both sides. You can find a comprehensive list of exhibitions on China Exhibitions website which can  help decide which fairs to attend. Make sure that you have a well-planned itinerary along with pre-arranged meetings with your Chinese suppliers. A little research on Chinese nuances and traffic conditions will help avoid delays and better prepare for your next event in China.
Gifts to Bring Back from China
Traveling to China for business is quite different from traveling to China for a vacation trip. Days are normally scheduled for business meetings, factory visits, and you're more likely to be constantly moving from one city to another. This leaves a small room for  souvenir shopping. However, your family and friends would be delighted to receive a gift from your business trip to China. Instead of trying to find presents the last couple of hours before your flight and ending up buying them at the airport, we've picked up great gift ideas for you. The typical teas and qipaos can be considered for purchase if you have more time to go to the market or tea house. However, for those short on time, we have prepared a list of 7 unique and easy-to-find gifts from China.
Plan your trip to China today!  Take advantage of US$10 OFF online discount now and pre-book private airport transfer service anywhere in China. Simply click the image below: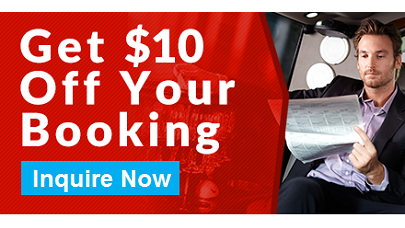 ---
OUR TOP AIRPORT TRANSFER CITIES

If you find this blog useful, please feel free to share it!