SANYA AIRPORT TRANSFERS & CAR RENTAL WITH CHINA CAR SERVICE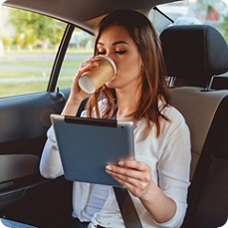 Sanya is one of the world's most famous destinations for relaxing holidays, with endless stretches of  white-sand beaches and clear waters of Yalong and Haitang bays, large luxury resorts and spa, picturesque rainforests and lively atmosphere. We provide private car and professional driver hire services; Sanya airport transfers to your hotel, and hourly car rental to get around Sanya. Start your Sanya holiday off right by pre-booking a private car and driver transfer with China Car Service!
Why pre-book a private transfer. The initial travel from the airport to your hotel is often the most challenging and least enjoyable part of the trip – language differences, figuring out transportation options in a crowded arrival hall, long taxi queues, old unsafe vehicles or impatient, unhelpful drivers. A better alternative for comfort and convenience is to take a private transfer service with a professional driver and vehicle of your choice to enjoy happy and stress-free holiday travel.
HOW IT WORKS

1. Select your service
and vehicle

2. Submit booking and get instant confirmation

3. Our 24/7 Team follows & manages your service

4. Your professional driver greets you with name-sign

5. Relax and enjoy
your ride!
How it works. 1) Make a quick reservation online or by email to Bookings@ChinaCarService.com. 2) You'll receive your service confirmation email with full details immediately. 3) Prior to service, we'll send you email and SMS pre-service reminders with your driver details. 4) For Sanya airport pickup, your driver will greet you with a printed name-sign as soon as you enter into the arrival hall, help with your luggage and take you to your hotel in a clean late model car. 5) You can contact our 24hr customer service team for assistance or questions at any time.
Our local Customer Service team is available 24 hours a day, 7 days a week!
Professional services we provide:
✓ Sanya Phoenix (SYX) Int'l Airport transfer
✓ Sanya hourly hire car rental
✓ Sanya limo service in executive sedan or MPV
✓ Sanya local transfer service
✓ Intercity transfers from Sanya to Haitang, Jiyang, Yazhou, Tianya, Haitang, Nanlinxiang, or other cities
✓ Sanya cruise port transfers
✓ Private sightseeing tours around Sanya
✓ Long term car and driver leasing
✓ English assistants or professional interpreters
What to expect from our Sanya transfer & car service
✓ Easy booking process & instant confirmation
✓ 24/7 operations team closely manages your service
✓ All-inclusive pricing with no hidden costs
✓ Immediate replies to any follow-up questions
✓ Pre-service reminders with service details
✓ Free cancellation
✓ Prompt pickup greeting by your courteous driver
✓ Safe and relaxing ride
✓ Clean, late model vehicles
✓ Complete customer satisfaction with the service
Why choose China Car Service. We understand the importance of providing a seamless 1st class transportation experience at reasonable prices.  Our focus is on your satisfaction, convenience, and comfort, arranging services flexibly to your specific requirements and schedule changes, and providing you professional service with experienced chauffeurs.  Send us your inquiry today to see how we can help you.
---
What Our Clients Say
"Great Airport Transfers"  


"The team coordinated person to be at my plane to escort me from the plane through customs to baggage and to my driver. With my plane 20 hours late, I was worried about how this would work out and I was happy to see it worked out without a hitch. When I got off the plane, I saw the sign with my name and I buzzed through without any hangups. The driver was also great!"
Robert J., USA
"Professional Service"  


"I've been using these guys for years now, and the service has only gotten better. WeChat interface makes communication and payment easy, cleanliness is on point and all in all it's ten times easier than wrangling with cabbies and hauling luggage across the border by yourself. Worth the price. Five stars. Highly recommend".  Read more
William, USA