5 Reasons Business Travelers Rent a Car and Driver in China
Business By China Car Service Comments Off on 5 Reasons Business Travelers Rent a Car and Driver in China
'China' in Chinese (Zhong Guo, 中国) means 'The Middle Kingdom,' and it's lived up to its name establishing itself as the business center of the world. China hosts millions of travelers each year, of which many come in pursuit of meeting local companies, establishing working relations, and finding factories that suit their product needs.
In order to handle the volume of visitors, and of its own local residents, transportation infrastructure and convenience is key. With over 1.3 billion people living in China and 80% of them using public transport, navigating through its major cities can quickly become a nightmare. 
Many road signs are only in Mandarin, so trying to drive yourself around is almost an impossibility. So, why not rent a car with a professional local driver to have full flexibility, independence, and convenience during your trip? Below are some of the reasons why it's wiser to rent a car and driver when doing business in China.
1. Convenience & Flexibility
Whether it's your first time visiting the middle kingdom, or you're a regular, the reality is that China's cities face ongoing challenges relating to transport. Over the last ten years, Beijing has built an impressive  subway network, however, air quality and congestion remain major problems.
By hiring a driver, you can avoid the trouble of having to get a Chinese driver's license in order to drive yourself around. Renting a car with a driver gives you one less thing to worry about when traveling in a foreign country. 
Flexibility is another great advantage, as you can always choose where and when to travel. In this way, you'll be avoiding traffic peak times and making your way to your 8am meeting well-prepared, well rested, and even with some spare time in the car to go over your meeting notes. 
In your executive car, you'll enjoy the full comfort of a trusted vehicle that no local taxi or public transport can provide. You won't have to make any connections, transport switches, or worry about having to make sure the taxi driver isn't taking the long route. Rather, you'll have time to sit back and catch up on some work.
As mentioned earlier, most large cities are very well connected with their subway systems. This economic and quick method of traveling may seem convenient, however, most factories and offices lie outside of its immediate reach. You'll have to find your own way to your destination via foot or by hailing a taxi when you arrive at your closest subway station. 
This is why most business travelers prefer to hire a car for the day, or even half the day, and ensure they can get wherever they need to efficiently.

2. Bilingual/Multilingual Professional Drivers 
No matter how many Mandarin lessons you've had, there might always be that one road sign that will throw you off, or that one person who gives you directions in Mandarin, but you can barely understand what they mean. 
In as much as there are numerous services trying to cover this gap in the traveler's market, very few seem to offer an all-inclusive package. Make sure you pick a car service provider that offers bilingual and/or multilingual drivers with years of professional driving experience. Your driver can be your interpreter while you're off shopping for souvenirs for the family back home.
Insider tip: As most companies would rather work with someone they can communicate easily with, we recommend that you hire a qualified interpreter for your business trip to China. Especially in today's globalized economy, there's no downplaying the importance of translation services during your overseas trips.

3. China's Ins & Outs
A good car service provider will help you avoid traffic jams and routes with construction delays. A knowledgeable driver will increase the efficiency of your trip being 'homebred' with experience. 
This way, you won't have to worry about missing any important appointments during your trip. For example, business dinners are a very important event in China. When doing business with a Chinese company, it really pays to accept their dinner invitation as these are usually a precursor to closing a deal. 
When you rent a car with a driver, you can guarantee you'll get to dinner on time. What's more, with an English speaking driver, you may even be able to receive a crash course on the basics of business dinner etiquette in China, while you're making your way there.
Insider tip: Business dinners in the mainland usually begin at 6 or 6:30. The host of the dinner will sit at the head of the table facing the door and, as the company's guest, you should sit directly across from him if the table is rectangular (if it's a round table you'll be seated to their right). 
It's important you never pour your own beverage, and make sure the glasses of those next to you are always full. Find more tips in our Chinese deal-making process article.

Preparing for a trip to China? A private transfer is the safest, quickest way to travel from the airport to the city. China Car Service is a trusted transportation service helping business travelers for almost two decades. We provide door-to-door service at competitive prices. 
Make your journey stress-free and contact our 24/7 team at Bookings@ChinaCarService.com with questions, or get a quote below.  Use this promo code: 10CARBLOG to get a $10 discount on your 1st service.
4. Hassle Free Trip
As the world's largest automobile market, China will continue to move towards having more cars on their roads. Although, more cities are placing car restrictions in response to the over-congestion and air pollution concerns.
In July 2016, Guangzhou rolled out a vehicle license quota, modeled after Shanghai, Beijing, and Guiyang. Along with Guangzhou, the three largest cities in China limit vehicle purchases to stem the tide of private auto ownership. 
This type of restriction is found in a few other countries, like Singapore. In China, however, due to the immense number of people on the road, it's become a necessary regulation. 
Therefore, it's important to find a car service that abides by these rules and avoids road hassles with authorities. Given that one cannot drive in China without a Chinese driver's license, the perfect alternative is to simply rent a car with a driver to avoid the hassle.
Insider tip: Be wary of the time of the year when you decide to have your business trip. If possible, avoid planning your business trip on the three golden weeks in China, which are:
Two weeks during

Chinese New Year

(late January or early February each year)

The first week of May (

May-day

holidays)

First week of October (

National Day

holidays)
During these times most people in China will also be on holidays. This tends to create an incredible crowding of transport systems as well as tourist destinations.
5. Supporting China's Local Business
Using a Chinese car service provider makes the experience authentic and community-unique. Local drivers will know their way around the city you're traveling to and can offer valuable advice on which places to see, and at what times they're least crowded.
Though China has its own share of big chain stores and restaurants, there are still many local places to visit that still carry that unique traditional culture. Often locals will visit foreign restaurants as a break from the usual but they'll never replace the small diners down the street where they choose to have their breakfast each morning.
By supporting those local businesses, instead of the chains, you ensure they keep their doors open and that you experience the some genuine culture that may otherwise be overshadowed.
China is no longer just the world's factory. It's also become one of the world's largest buyers, as well as a key business center. Hence, when traveling to China it's important to:
Have a handy English to Chinese phrase book (as some Chinese people don't speak any English).      

Get a useful business guide or insider guide to Chinese business culture.

Hire a qualified

Chinese interpreter

to escort you during your China business trip.

Rent a car with a driver

in advance to navigate you while you're here.
Plan your trip to China today!  Take advantage of US$10 OFF online discount now and book private car & driver hire service anywhere in China. Simply click the image below: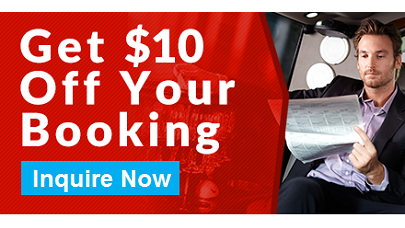 ---
OUR TOP AIRPORT TRANSFER CITIES

If you find this blog useful, please feel free to share it!