Hong Kong Airport To Shenzhen By Public Bus & MTR
Source: www.commons.wikimedia.org. Image by N509FZ
How to get from Hong Kong Airport to Shenzhen By Public Bus & MTR
Getting from the Hong Kong Airport to Shenzhen via public bus and MTR ( the Metro service in Hong Kong) is the most cost-efficient option. However, you should expect a bit of inconvenience, some missteps, and an overall discomfort due to multiple bus route changes, having to carry your luggage at each step, waiting times required, and the occasional need for a basic Mandarin or Cantonese communication if you have any questions along the way. This route is recommended for travelers on a budget, adventurous travelers, and travelers with plenty of time.
Time: 3.5+ Hours
Convenience: Very Low
Comfort: Very Low
Cost: HK$50.90+ to Shenzhen border
Public Bus Boarding Point
Upon entering the Hong Kong International Airport Arrival Hall B, walk forward and exit through the ramp. Then, exit straight ahead and make your way out to the right, where the Airport public bus terminal is located.
Travel Route To Lo Wu – Luohu Border
Travel Steps By Bus & MTR/Metro
Exit Hong Kong Airport, find bus terminus, board bus and wait for departure (15-25 min)
→ Get on A43 bus route to Fanling and get off  at stop #3 at Sheung Shui Railway Station, fare: HKD $30.90 (1 h -1 h 20 min.)
→ Walk to the Sheung Shui MTR Station (5 min.)
→ Board MTR & exit the next stop at Lo Wu Station, fare: HK$ 20 (10-15 min.)
→ Walk to Hong Kong immigration building & pass through HK immigration (15-25 min.)
→ Walk across border on foot (5 min.)
→ Pass through China immigration at Luohu Checkpoint (15-60 min.)
→ Walk to Taxi area or Shenzhen Metro Luohu Station & wait in a queue (10-20 min.)
→ Take Taxi or Metro to Shenzhen final destination (20-60 min.)
This route is preferred by many people due to its convenient location. The Luohu checkpoint is the busiest immigration point connecting China and Hong Kong. From the Shenzhen Luohu District you can easily reach the Futian District (the central district of Shenzhen) by taxi or metro.
A43 Schedule:  7:00 – 00:00, every 15-30 minutes.
The route is serviced by double-decker buses with air-conditioning. The luggage racks allow you to store your luggage while you enjoy a scenic bus ride.
Payment Methods
Pay by cash. You'll have to prepare the exact amount of HK$ because the bus driver will not have any change.

Purchase a single journey ticket at the Customer Service & Airbus Ticket Office (Airport Ground Transportation Centre).

Use the

MTR Octopus Card

that can be used to pay for multiple modes of transport including the MTR, Airport Express, Light Rail, buses, and ferries. It can be purchased at the Arrival Hall or in most MTR stations. If you're a frequent traveler, you should definitely consider purchasing an Octopus Card.
Summary: This is the most cost-effective option, but it is also the least convenient. Hong Kong is extensively served by bus routes directly from the airport, however, there are no direct routes from Hong Kong Airport to Shenzhen. For travelers without experience in reading traditional Chinese Mandarin/Cantonese, or not wanting to change routes and modes of transport, we do not advise this method. For a more convenient option, the cross-border coaches provide a more expedient and direct route to Shenzhen, at a similar cost.
A private transfer is the safest, quickest way to travel from Hong Kong to Shenzhen. China Car Service is a trusted transportation service helping Hong Kong business travelers for almost two decades. We provide door-to-door service at competitive prices.
Make your journey stress-free and contact our 24/7 team at Bookings@ChinaCarService.com with questions, or get a quote below.  Use this promo code: 10CARBLOG to get a $10 discount on your 1st service.
Alternative Option: Hong Kong Airport Private Car & Limo
Time: 1-1.5 Hours
Convenience: High
Comfort: High
Cost: Get a quote
Travel Steps By Private Car
HK Airport Arrival Hall Driver Greeting → Private Car Travel Through HK and Shenzhen Huanggang Border Immigration → Shenzhen Final Destination.
The "X" factor you'll want to take into account is "the number of people crossing the border at the same time as you." Approach the border at the wrong time of day and the immigration process can take over an hour. A private car service eliminates this risk because it's a door-to-door service.  Meaning, you are met by the driver at the HK Airport Arrival Hall, you travel directly to the border, and pass through HK immigration from inside the car. From there, you'll pass straight through to the Shenzhen immigration point where you'll need to exit the vehicle briefly (the Chinese government requires all travelers pass through the Shenzhen immigration on foot), and finally proceed comfortably to your hotel or final destination in Shenzhen.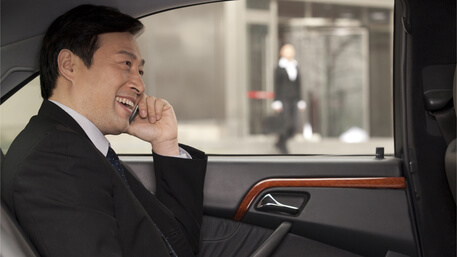 The private car service offers by far the highest level of convenience and comfort. No waiting, no queuing, and no need to change modes of transport along the way. It assures that you complete the journey quickly with no expended effort.  A Private car service from Hong Kong Airport to Shenzhen is recommended for time-sensitive travelers, leisure travelers looking for a worry-free experience, families traveling with children, and seniors.
Travel & Visa Documents
Note: Getting from Hong Kong to Shenzhen requires crossing an international border into mainland China. There are immigration checkpoints and customs clearance at both the Hong Kong and Shenzhen sides of the border, both through which all travelers must pass.
In addition to having your passport ready and bearing in mind your country's visa requirements to enter China mainland,  note that these two border crossings can often add significant time to the journey. You may be eligible to get a visa on arrival at Shenzhen border crossing.  
---
China Car Service provides private limousine transfers. If you are interested in private car service for your Hong Kong to Shenzhen journey, please don't hesitate to contact us:

Bookings@ChinaCarService.com

.
We're also excited to offer you a $10 discount on your first service with our company, redeemable with this promo code 

10CARBLOG

. Just click the image below and get your discounted quote!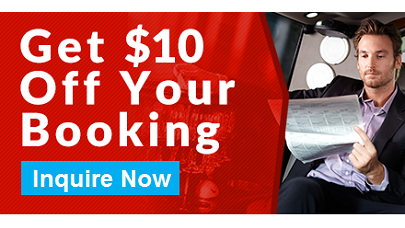 If you would like to know how to get from Hong Kong Airport to Shenzhen using other transportation options, please see related articles:
---
OUR TOP AIRPORT TRANSFER CITIES

If you find this blog useful, please feel free to share it!