Guide To The Top 5 China Spring Fairs 2018
Business By China Car Service Comments Off on Guide To The Top 5 China Spring Fairs 2018
China is host to some of the biggest trade fairs in the world. Visitors have a chance to discover the latest products and meet with potential suppliers. For international visitors, China can be a difficult country to adjust to at the best of times, but during a trade fair, it can be particularly overwhelming.
During the peak Spring business season in China, we know how hard it can be to travel around the busy expo districts. You should know how to find a decent restaurant and quick leisure activities after a long day at the trade show. We're here to help!
If you're attending an expo at one of China's main exhibition centers in Guangzhou, Hong Kong, Shenzhen, or Beijing, here are our recommendations for the top restaurants, hotels, leisure activities, and transportation solutions in each center.
1.  Guangzhou – Canton Fair
Date: 15 April – 5 May 2018
Location: China Import and Export Fair Complex, Guangzhou
Arguably the most famous fair in all of China, the Canton Fair is held biannually in both the Spring and Autumn. Coming up to its 123rd edition, the fair is split into three phases.
Phase 1, April 15-19

– Electronics & Household Appliances, Lighting Equipment, Machinery, Energy & Resources, Building Materials, Vehicles & Spare Parts, Hardware & Tools, Chemical Products, and International Pavilion.

Phase 2, April 23-27 –

Consumer Goods, Gifts, and Home Decorations.

Phase 3, May 1-5 –

Office Supplies, Cases & Bags, Medical Devices, Health Products, Food, Shoes, Textiles, and Garments.
? Transportation
Hotels ?
Shangri-La Hotel Guangzhou –

The Canton Fair has a reputation as one of the largest trade fairs around and after a day on the exhibition floor, most visitors are exhausted. Thankfully, within walking distance is the

Shangri-La Hotel Guangzhou

, offering 6 restaurants and both indoor and outdoor pools.

Pullman Hotel Baiyun Airport Guangzhou –

There are plenty of

hotel options for the Canton Fair

, but for business travelers looking for a hotel near the airport, the

Pullman Hotel Baiyun Airport Guangzhou

comes highly recommended. Located within the airport itself, the hotel also boasts an indoor pool and several dining options.
? Restaurants
? Attractions
Canton Tower –

The landmark of Guangzhou's already impressive skyline is undoubtedly the Canton Tower. Standing at 604m tall, it offers unparalleled views of Guangzhou. There are a number of dining options available, too.

Chimelong –

Guangzhou is also home to one of China's most popular tourist resorts in

Chimelong

. Located in Panyu district, the sprawling complex contains an amusement park, water park, zoo, and circus.
Coming to Canton Fair? If you need a transfer or car & driver in Guangzhou, get a quote now.
2. Hong Kong
– HKTDC Hong Kong Electronics Fair
Date: April 11 – 14 & 18 – 21, 2018
Location: Hong Kong Convention and Exhibition Centre, Hong Kong
One of the two big fairs that are held in Hong Kong, the HKTDC Electronics Fair brings together some of the largest buyers and suppliers in the electronics industry. Featured in this year's edition will be the following:
3D Printing, iAccessories, Audio Visual Products, IP Business, Connected Home, Digital Imaging, Eco-Friendly Products, Office Automation & Equipment, Electronic Accessories, Electronic Gaming, Robotics & Unmanned Tech, Virtual Reality, Wearable Electronics, and many more.
? Transportation
Hong Kong Global Sources Trade Show
Date: April 11 – 30, 2018
Location: AsiaWorld-Expo, Hong Kong
The second of Hong Kong's two biggest trade fairs, The Global Sources Trade Show matches the Canton Fair in terms of sheer size. Over the course of 21 days and 4 exhibitions, more than 9,000 booths will showcase their products. The 4 exhibitions are spread out over the month and deal with different markets.
? Transportation

Hotels in Hong Kong ?
The Peninsula – No list of hotels in Hong Kong would be complete without mention of  The Peninsula! Since opening in 1928, the hotel has been steeped in the history of Hong Kong and has become one of its most iconic landmarks. The Peninsula oozes luxury and class, from its colonial exterior, its Michelin-star restaurants, and its fleet of Rolls Royce cars.
? Restaurants in Hong Kong
? Attractions in Hong Kong
Tian Tian Buddha – One of the most popular tourist spots is just a 30-minute drive from AsiaWorld Expo and also located on Lantau Island. Tian Tan Buddha, or Big Buddha as it is commonly referred to by tourists, is found near Po Lin Monastery in the highlands of Ngong Ping and is the tallest outdoor seated bronze Buddha in the world.
MongKok – If it's local shopping that you are interested in, then you are sure to find what you are looking for in the markets at Mong Kok. Ladies Market on Tung Choi Road, the most popular of all the markets, offers a wide range of clothes, handbags, and novelty souvenirs, while the Mongkok Computer Centre at 8 Nelson Street caters for all electronic good needs.
Victoria Peak – Recently, CNN Travel awarded Hong Kong as the best skyline in the world, and there is no finer place to enjoy the stunning view than at Victoria Peak. From a height of 552m, visitors can see over Hong Kong Island, across the bay to Kowloon, and in the distance to New Territories. Find time during your fair schedule to take in this truly breathtaking vista.
Stanley Bay – While Hong Kong is indeed famous for its skyscrapers and its skyline, the city also boasts an embarrassment of riches when it comes to waterfronts and beaches. One of the most famous seafront spaces is Stanley Bay, which is located on the south side of Hong Kong Island, away from the hustle and bustle of the fair.
A private transfer is the safest, quickest way to get to one of these exhibition centres.
China Car Service is a trusted transportation service helping foreign business travelers for almost two decades. We provide door-to-door service at competitive prices. 
Make your journey stress-free and contact our 24/7 team at Bookings@ChinaCarService.com with questions, or get a quote below.  Use this promo code: 10CARBLOG to get a $10 discount on your 1st service.
3. Shenzhen – China Electronics Fair
Date: April 9 – 11, 2018
Location: Shenzhen Convention & Exhibition Center, Shenzhen
Just across the border from Hong Kong, Shenzhen holds one of the electronics industry's most significant fairs. The China Electronics Fair is now in its 91st edition. Visitors can expect to see the latest designs in the following fields.
Electronic Components, Testing and Measuring Instruments, Manufacturing Equipment, Tools, Photoelectric Products, Microelectronics, IT Products, Small Household Electronic Appliances, and many more.
? Transportation
Hotels ?
The Ritz-Carlton –

There are a number of luxury hotels surrounding the Shenzhen Convention & Exhibition Center such as the

Sheraton Shenzhen Futian

and

Hilton Shenzhen Futian

, but The Ritz-Carlton comes highly recommended. The hotel boasts 6 restaurants and bars, with the international buffet of Flavorz a standout.

JW Marriott Bao'an –

Reaching the Shenzhen Bao'an International Airport can sometimes take over 1 hour from the Shenzhen Convention & Exhibition Center. As a result, fair visitors who have an early flight to catch may wish to take a night's stay at the JW Marriott Bao'an, which is situated about 30 minutes from the airport.

The St. Regis Shenzhen –

Occupying the 75th to 98th floors of the 441m high KK100 skyscraper is The St.Regis Shenzhen. The building is the 14th tallest in the world and offers arguably the most breathtaking view in the city. Social All-Day Dining is the perfect setting to dine with clients after the fair. You can also head up to The Drawing Room if in need of a well-deserved drink after an entire day on the exhibition floor.
? Restaurants
? Attractions
Luohu Commercial City –

Located right next to the Luohu border, Luohu Commerical City gives fairgoers a chance to do any last-minute shopping. The

five-floor mall is home to hundreds of small shops

selling anything from tailored suits, golf club sets, casual business wear, and sportswear.

Window Of The World –

Window Of The World boasts

more than 130 reproductions of famous landmarks from around the globe

. The theme park has become one of the city's most popular tourist destinations. Those who take a break from the fair can see a 108m tall Eiffel Tower while standing between The Pyramids of Giza and the Taj Mahal.
Coming to Shenzhen for business? Arrange a comfortable transfer with our car service in Shenzhen
& get an instant quote now.
4. Beijing – International Auto Show
Date: (Components) April 25 – 29 & (Whole vehicle) April 27 – May 4, 2018
Location: China International Exhibition Center Old Venue &New Venue, Beijing
Arguably the biggest trade show in the nation's capital, the Beijing International Auto Show is a chance for the top names in the automotive industry to showcase their latest products.
The fair is split into two clear sections. The Components fair is held between April 25-29 at the China International Exhibition Center (Old Venue) and the Whole Vehicle fair is held between April 27 – May 4 at the new venue.
? Transportation
Hotels ?
Crowne Plaza Hotel Sun Palace Beijing –

Just a 10-minute drive from the exhibition center, the

Crowne Plaza Hotel Sun Palace Beijing

is a favorite for fairgoers.

Hilton Beijing Capital Airport –

Business travelers looking to stay near the Beijing Capital Airport in a quality hotel need look no further than the

Hilton Beijing Capital Airport

. The hotel boasts an indoor pool and spa as well as 4 restaurants.
? Restaurants
Dadong –

Once in the capital, you simply cannot leave without sampling its world-famous

Beijing Roast Duck

. There are, of course, hundreds of culinary choices to try Beijing's signature dish, but Dadong is perhaps the city's most renowned establishment. The restaurant separates itself from the pack with its innovative methods and it's

highly

recommended you book a table in advance to avoid disappointment.

The CUT –

Located on the second floor of the Fairmont Beijing,

The CUT

is arguably the destination of choice for the city's steak lovers. Diners can choose from the finest cuts of grain and grass fed beef from North America and Australia, as well as the freshest seafood.

Atmosphere Bar –

Located on the 80th floor of the China World Summit Wing,

Atmosphere Bar

offers guests a stunning view of the capital. The bar, which is part of the hotel operated by Shangri-La, is the

highest in all of Beijing

and is one of the trendiest locations in the city.
? Attractions
The Great Wall of China –

For business travelers that have a bit of spare time during their trip to the fair in Beijing, The Great Wall is an absolute must-see. There are a variety of locations on the wall that can be visited. Slightly further away from the center of Beijing than the more popular Badaling, Mutianyu is worth the bit of extra effort as it offers the most beautifully restored section of The Great Wall.

The Forbidden City –

The Forbidden City was the home of the Chinese Emperor for almost 500 years. Now, the palace grounds welcome more than 14 million visitors every year. With over 9,000 rooms, there is so much history to explore in The Forbidden City.
Book A Private Car For Your Spring Trade Fair In China
Travel in complete comfort and convenience during your visit to the spring trade fair, as a private car picks you up and takes you to the doorstep of your destination.
Benefits include:
Car services operating in these cities boast a wide fleet of car types to select from. Whether it's a Toyota Camry, a Mercedes S-Class, or a minivan for groups, you can arrange your vehicle in advance and forget about the stress of traveling while visiting the fair.

With a private car service, travelers can relax knowing their

driver can speak English.

In case any changes are made to the travel plan, your driver can assist. Enjoy your trade fair experience with a driver you can easily communicate with.

Avoid the price hikes that inevitably come when any of the large-scale trade fairs come to town. The

sudden influx of business travelers encourages local taxi drivers to pump up prices.

They see international visitors as potential cash cows. Private car services, however, can be trusted to always be consistent and reliable with their prices.

Beyond price hikes, booking a car in advance also eliminates the risk of falling victim to

taxi scams

; all too common to tourists in China. By booking a private car service, your only concern is just to sit back, relax, and prepare to head to your destination.

 It's certainly the

most comfortable and least stressful way to get around during a trade fair in China

. By hiring a private car, you'll save time and easily follow your schedule with no interruptions.
On your way to one of the China Exhibition halls this Spring? Take advantage of our online $10 discount and get a quote now! (click the image below)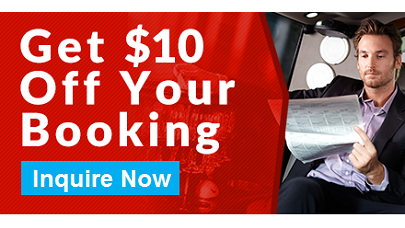 ---
OUR TOP AIRPORT TRANSFER CITIES

If you find this blog useful, please feel free to share it!