The Top 3 International Airports In China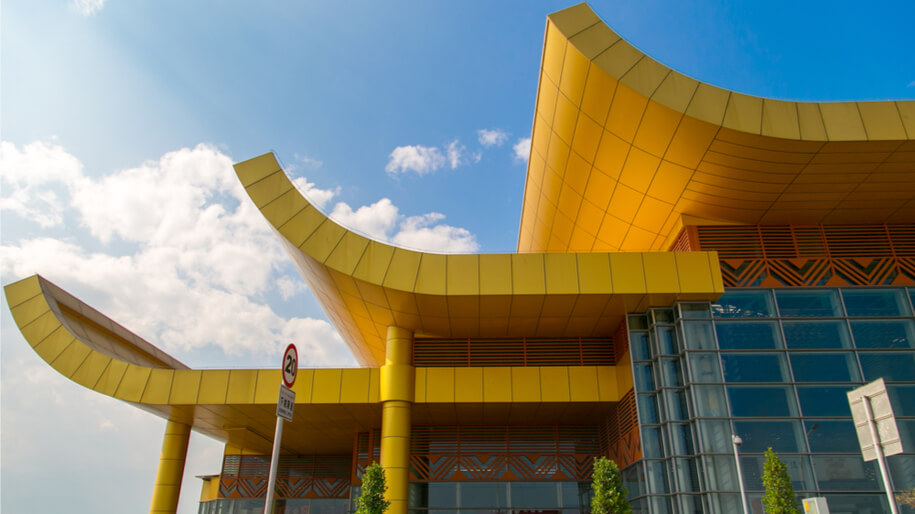 For those who take to the skies regularly, most airports begin to take on a familiar look and feel. If you travel often enough, business class lounges all begin to look the same, too. Despite the obvious benefits that some may have to offer. With that being said, some airports do differ from others in the way they do things, especially in China. Air travel can, at times, be a complicated process in China. Unfortunately, delays and small inconveniences often arise. To limit these, we've found and listed the 3 best international airports in China.
1. Beijing Capital International Airport
Where better to begin than with China's biggest airport? With nearly 95 million passengers passing through its terminals each year, Beijing Capital International is one of the biggest international airports in China, and in the world. All international flights are routed through the impressive Terminal 3, which was built ahead of the 2008 summer Olympics that Beijing hosted. The new terminal also boasts restaurants that cater to both local and western palates.
If you're departing from Beijing Capital, it's best to plan for extra travel time. Beijing is famed for its heavy traffic and getting to the airport can take a while. Though traffic is worst at peak hours, the route to the airport is full of winding highways.
To escape the crowded roads, many travelers opt for the airport express train. It operates from the Dongzhimen and Sanyuanqiao subway stations for most of the day (the last trains departing at 10:30 PM). As a business traveler, however, the express train is not without its own hassles. If you're carrying large luggage, for example, squeezing onto busy trains and navigating long queues can be challenging.
Though the express train is the faster option, the best option for getting to the airport safely, comfortably, and without hassles (other than the inevitable traffic) is making use of a private car service. These offer ample space for your luggage, without any waiting in queues for taxis or transferring between train stations with all your luggage. More so, a car service will pick you up at your doorstep and drive you the entire way.
Once you're safely inside the airport, prepare for some lengthy security lines. This is especially true if you're traveling around the holiday seasons, such as Chinese New Year. Luckily, the airport does offer free wifi, so you can catch up on work if you choose to arrive earlier. That's not to say that you'll be able to access your Gmail or update your Facebook status, however. The great 'firewall of China' is alive and well within the airport. You'll need a VPN service to get around it. Make sure to download one on your computer and phone before arriving to China, otherwise you'll have to wait until you're back outside the country.

2. Shanghai Pudong International Airport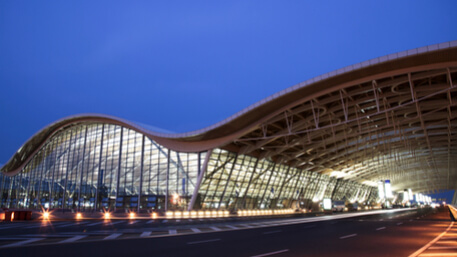 The younger of Shanghai's two international airports, Pudong was opened in 1999. Located just 30 kms outside the bustling Shanghai CBD. Getting to and from Pudong isn't as difficult as other airports in China, especially with the Maglev train.
The train is an experience on its own. Famed for being the world's first commercially operated high-speed magnetic levitation train, it holds the title for the world's fastest commercial service; reaching speeds of 431 km/h! Let's not forget, Shanghai is one of the world's most populated cities. The trains might be quick but getting a seat on one isn't. As with any public service in China, you're bound to face long queues to find tickets and your seat (unless you've booked well in advance). Using the train isn't the only way to get to the airport, however. Most locals make use of regular subway lines or find local taxis to drop them off. However, the use of packed subway lines and taxis in China can be difficult. Taxis, in particular, are famed for refusing to pick up foreign passengers. They'll often claim the language barrier is too much of a hassle.
The airport itself acts as a hub for some of China's biggest airlines, like China Eastern Airlines, Air China, and cargo giant DHL. The two major terminals, flanked on either side by four parallel runways, is soon to be joined by a third major terminal. This will increase its annual passenger capacity from 60 million to 80 million passengers per year! All of whom will soon be able to enjoy all the amenities that modern airports in China boast.
The airport is fully equipped with an array of fast food outlets and restaurants familiar to western travelers, and even hosts the famed No. 77 China Eastern Plaza Premium Lounge. This business class lounge consistently ranks amongst the best in the world. With a buffet serving a selection of both Chinese and Western-style food items, a live cooking station will even prepare fresh Shanghai- and Hong Kong-Style signature noodles for guests upon request.
Business travelers can catch up on work with any  of the five computer workstations, complimentary Wi-fi, and telephones. Also, the lounge offers a flight information monitor, so you can keep track of the status of your flight. Other amenities include a TV, a selection of newspapers and magazines, recharging stations, three showers, nursing room, leisure area, relaxation area, disabled access, and a separate smoking room.

Preparing for a trip east? A private transfer is the safest, quickest way to travel from airport to the city. China Car Service is a trusted transportation service helping business travelers for almost two decades. We provide door-to-door service at competitive prices. 
Make your journey stress-free and contact our 24/7 team at Bookings@ChinaCarService.com with questions, or get a quote below.  Use this promo code: 10CARBLOG to get a $10 discount on your 1st service.
3. Hong Kong International Airport
If you're lucky enough to be flying into Hong Kong airport during daylight hours, the airport approach offers a beautiful view. Located on the island of Lantau, the breathtaking approach flies over the buildings and mountains that border the city.
Considered one of Asia's major transport hubs. Flights arrive to this airport from all corners of the globe. It's popular amongst travelers because of the excellent dining and shopping available at the airport. With major international brands like Zara, Jimmy Choo, MAC, and even an M&M's world. Not to mention, an array of smaller design boutiques; it's not hard to see why passengers often board their flights with more than one shopping bag. For those looking to grab a bite to eat, there are large food courts in both the eastern and western halls of the terminals offering both Asian and Western delicacies like Pizza Express, Starbucks, Cafe Deco, and other popular options.
For business travelers looking for an opportunity to relax, the Cathay Pacific Bridge Lounge is worth a visit. Situated near Gate 40 in the Western Hall, the lounge offers the widest selection of amenities and luxuries, including private cabanas. The bridge is ranked amongst the top 10 best airport lounges in the world. Many would argue it comes out on top in the rankings for best business lounges in China's major airports. In fact, in 2016 the lounge was voted World's Best First Class Airline Lounge by Skytrax customers.
Designed by Foster and Partners, the lounges were clearly designed with comfort in mind. Guests can expect a restaurant quality Eastern and Western dining experience inside the lounge. They may dine from the Bistro menu, or enjoy freshly baked bread and pizza from The Bakery. The Long Bar provides a view over the airport's tarmac as guests sip on signature cocktails, fine wines, or champagne.
Other noteworthy facilities include private shower suites (with complimentary towels and amenities); and IT Zones (including phones, printers, and high-speed web access) that will help keep the traveling experience comfortable and productive. With access to this lounge, the Hong Kong International Airport is one airport in China you won't mind a transfer to.
On a side note, getting to the airport can be tricky when traveling by taxi. As with anywhere in China, taxis are prone to scamming tourists and taking advantage of the language barrier. They'll use this barrier to try and convince you that you have no choice but to pay their exorbitant and illegal fees. Experienced travelers usually make use of a private car service with a driver, or hop on board the Airport Express train. A great feature that the train terminals offer is the ability to check-in your luggage at the station before arriving at the airport. If you board at the Hong Kong central station of the Kowloon station, you'll be able to check in your luggage and even receive your boarding pass before arriving at the airport. Meaning once you get there, you can proceed straight to security before boarding your flight.
Traveling in China doesn't have to be complicated. As a leader in the world's economy, China has been generous in investing on its travel infrastructure, particularly its international airports in China. If you're fortunate enough to be heading to China soon, you're likely to find their international airports on par with those you'll find in the West.

Planning your trip to China? Take advantage of US$10 OFF online discount and pre-book private car & driver transfer anywhere in China. Simply click the image below: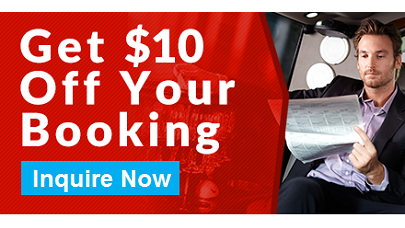 ---
OUR TOP AIRPORT TRANSFER CITIES

If you find this blog useful, please feel free to share it!