How To Identify Taxi Scams In China
Traveling to any foreign country can be daunting at first. Few travel places seem to be as overwhelming and exciting as China. The world's most populous nation has much to offer, thriving economic sectors and growing tourist attractions draw millions of visitors each year. A fair share of those visitors opting to use a taxi while getting around, fall victim to the most common taxi scams in China. While the majority of taxi drivers in China won't try to scam you in any way, there will always be a few unscrupulous characters looking to make an easy buck off unsuspecting foreigners. Learning about the scams ahead of time can help you prevent getting tricked to pay more than the actual fare during your visit in China.
Unlicensed and unofficial taxi drivers are common in most countries, and China is no different. Unlicensed taxis are referred to as 'Black Taxis' necessarily because of their color but rather the fact that they're unregulated drivers. While the introduction of popular riding apps such as Didi has helped reduce the amount of unregulated drivers, there is still a fair number of them in operation around airports and tourist hot spots in China's biggest cities looking to take advantage of visitors. Their vehicles may look the same as any other taxi but their tactics to overcharge foreigners can be confusing to those not aware of them.
How Will Drivers Try To Scam You?
Installing fake meters: The fake meters can work in different ways. Some drivers will cover their meters with a 'preset' charge from the beginning,  meaning your ride begins at 40 RMB as opposed to 0 or 10 RMB. Another tactic commonly used practice in black taxis is to rig the meter to rack up charges at an irregular speed, some tourists have experienced meters that charge as much as ten times the regular rate per kilometer.
Driving off with your luggage: Another common trick that's used by taxi scammers in China is to ask the passenger to get out of the car and help push it after faking a breakdown or to ask the passenger to help close the trunk, claiming it wasn't closed properly in the first place. Once you've stepped out the vehicle, the driver will speed off with your luggage in the trunk and sell your goods on the black market. In extreme cases, drivers have also been known to drop foreigners off in unknown locations before collecting their money and then driving off with their belongings, leaving the passengers stranded in an area they are not familiar with. If you've forgotten your luggage in a licensed taxi, you'll be able to call the taxi company and arrange to meet the driver to reclaim it. In unlicensed taxis, the driver will likely be off before you even get the chance to take down his license plate number. If your baggage fits, keep it with you in the back seat to remove any risk of the driver riding off with your items as soon as you step out of the car.
Using counterfeit notes: Counterfeit bills are popular in many countries throughout Asia. When getting changed by the driver, make sure he hasn't swapped out your original bill for a counterfeit note. Many such cases have been documented in Beijing in particular. The drivers have perfected this skill to the point it is extremely difficult to notice the bills being swapped. A great way to detect this happening is if your driver returns the bill claiming it to be fake and then asks to get another one.
Each taxi should have the drivers information in front of the passenger's seat, on the right side. Make sure to snap a photo of that information as soon as you get in the car, and remember to take the receipt after the ride has concluded. 
A private transfer is the safest, quickest way to get around China.
China Car Service is a trusted transportation service helping business travelers to China for almost two decades. We provide door-to-door service at competitive prices. 
Make your journey stress-free and contact our 24/7 team at Bookings@ChinaCarService.com with questions, or get a quote below.  Use this promo code: 10CARBLOG to get a $10 discount on your 1st service.
So How To Avoid Scams?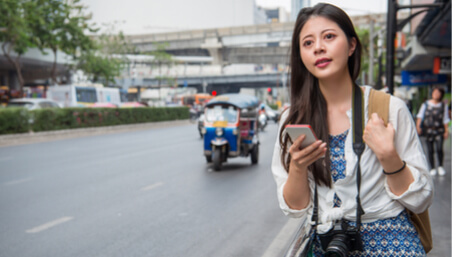 The easiest way to prevent this type of fraud is by pre-arranging a licensed taxi or a car service to get you from the airport or the hotel to your next destination. An important thing to remember when using taxis in China is that all licensed taxi operators have license plates beginning with a specific character, all licensed Beijing taxis for example have "京 B" prefixed on their plates. Official taxis also use a red light of some description on top, or inside their vehicles, usually connected to an official meter. Whilst illegal 'black taxis' either have no light at all, or hang a red light inside their vehicle, independent of the meter. By doing so they tend to mimic the official drivers to confuse unknowing tourists.
If you do decide to use a taxi in China, but haven't had the chance to arrange your travel ahead of time, make sure you join the official taxi queues at every airport which are marked in English. When a person approaches you asking if you need a ride chances are he is an owner of an unlicensed car and is looking to find an unknowing visitor to scam and charge a lot more than the regular licensed drivers. 
Another point to consider, in order to avoid not getting scammed, is doing some fare research ahead of time. Standard taxi rates in China are freely available online, so you'll be well aware when someone is trying to overcharge you.
If you realise that you are being scammed, politely ask the driver to stop immediately. Before getting out, take a picture of their registration (which is usually clearly visible inside the cab), so you're able to report them to authorities as soon as you get the chance.
It's well known to anyone who has used taxis in China that drivers can be rude and dismissive to foreigners. Not being able to communicate with passengers is seen as a problem for taxi drivers in any of China's bigger cities, so much so that many of them refuse to pick up foreigners. The easiest way to avoid any of the hassles it to make use of a reliable car service that can communicate in English and guarantees your safety when getting around China.

To avoid any unpleasant travel experience, hire a private car with a professional driver from a reliable service provider to get around China. Take advantage of our online discount and get a quote for a private transfer today!
---
OUR TOP AIRPORT TRANSFER CITIES

If you find this blog useful, please feel free to share it!