The Real Deal with The Great Wall Of China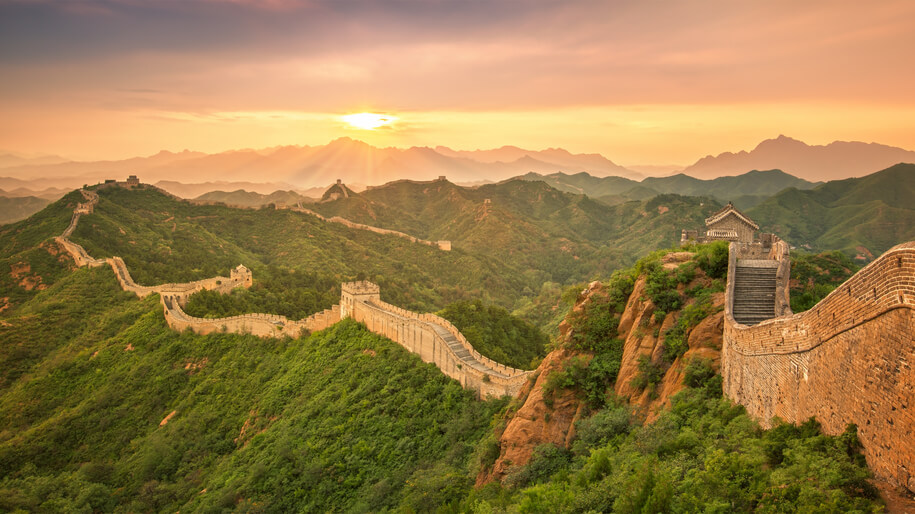 "He who does not climb the Great Wall is not a true man." As this famous Chinese saying suggests, The Great Wall of China is a must-see Chinese attraction. Its size, architecture, and mesmerizing landscapes will leave you in awe, regardless of the season. There are several different ways to travel along the Great Wall. Whether you have an eight-hour layover in Beijing's airport or are an adventurous traveler who wishes to make the most of the experience, we bring you the real deal on what you need to know.
How To Travel The Great Wall Of China
Where is the Great Wall located?
The 5,500.3 miles (8,851.8 kilometers) long Great Wall of China stretches across northern China, from Hushan (in Liaoning) to Jiayuguan Pass. It travels over deserts, grasslands, mountain ridges, and ends at the east coast of China.
Most of the Great Wall visited and seen on photos was built during the Ming Dynasty, a period between 1368–1644. Due to factors such as erosion, adverse weather conditions, and negligent human behavior, over 30% of the Great Wall has disappeared or completely deteriorated. The most popular and well-preserved sections are situated around China's capital city, Beijing.
How to get to the Great Wall of China?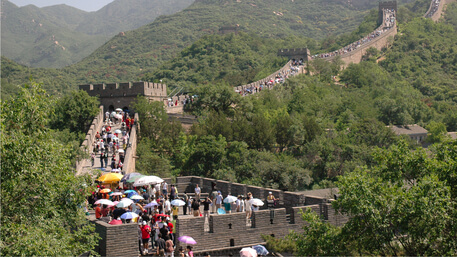 Being one of the most popular tourist destinations in China, there are different ways to reach the Great Wall. The wall is approximately an hour and a half's drive from Beijing. There are no direct buses or trains from Beijing to the Great Wall. Meaning, you would need to, at some point, transfer by bus. This is something that might prove to be a bit complicated in a foreign environment, especially because the majority of the population can't speak nor understand English.  Tour buses can take you to the Great Wall directly, however, they're usually extremely crowded. On the plus side, this would guarantee you a true "Chinese tour experience," being huddled from place to place along with the rest of the masses. And tour buses will frequently stop by Jade and Silk factories along the way, hoping to make commissions from tourist purchases.
For a much less crowded and easier experience, we recommend taking a private taxi or guided tour. Not only will your journey be significantly more comfortable and trouble-free but you'll also enjoy a tailored itinerary, allowing you to skip the crowds and visit some less crowded and well-known sections.
What are the best sections to visit?
Most Popular Sections: The Great Wall's most famous sections are located in its suburban areas. The three most visited sections are: Badaling (most popular among local tourists), Mutianyu (most popular among foreign tourists), and Juyongguan (a spectacular Great Wall Fort). 
These sections are all well restored, easily accessible, and provide straightforward hiking trips. They're also quite family friendly. If you're looking to travel to The Wall during your layover in Beijing's airport, or are just short on time for this trip, a visit to any of these sections is your best bet. The quickest way to any of these sections of the Great Wall is by car, especially during peak seasons, as trains and buses fill up very quickly and you may be left waiting for the next lift.

A private transfer is the safest, quickest way to get from Beijing to the Great Wall.
China Car Service is a trusted transportation service helping foreign business travelers for almost two decades. We provide door-to-door service at competitive prices. 
Make your journey stress-free and contact our 24/7 team at Bookings@ChinaCarService.com with questions, or get a quote below.  Use this promo code: 10CARBLOG to get a $10 discount on your 1st service.
Less Crowded Sections: Certain sections have also been developed into popular scenic spots but offer a less crowded experience. These sections allow for better photographic opportunities and for you to explore this Wonder of the World at a more leisurely pace. 
Jinshanling (a popular hiking route) and Simatai (an incredible display of architectural features) have been equipped with cableways to take you up the Great Wall, if you'd like to save some time. Certain parts along Simatai are actually restricted and you'll have to prepare for this beforehand. For example, you'll need to pass through the Gubei Water Town to reach Simatai and, before passing, you're required to make a reservation (at least one day in advance) on the Water Town's official website. Small details like this are why you'll need to do a little research before your visit to The Great Wall.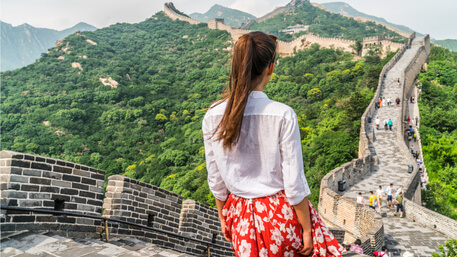 Another section worth visiting is the Huangyaguan Pass. Built along the mountains, it provides a wonderful hiking route for tourists with its captivating views down the steep mountain. It's one of the best sections to visit if you're coming from Tianjin and also happens to be where the annual Great Wall Marathon is held every May.
In addition to admiring the Great Wall, Xiangshuihu is a site rich in heritage and tradition that you can pay a visit to. Their Health Preserving Valley, located to the north of the mountain, is a relatively short hike up the mountain (roughly 1.6 miles/2.5 kilometers up). There you'll find health preserving aphorisms left by famous doctors, secret recipes written on stones, and hundreds of medicinal herbs.
Wild Sections: Very popular among hikers and adventurous travelers, "Wild Great Wall" are the sections that have not been renovated and therefore have kept their original appearances. Although they are broken-down, they still reveal the history and true architectural magic of the wall. Popular wild sections include Jiankou and Gubeikou.

How should you prepare for a visit to the Great Wall?
Clothing
When visiting the Great Wall of China, it's best to dress as comfortably as possible. You'll likely be doing a  fair amount of walking/hiking along the wall and some sections can get quite steep. Make sure you have comfortable shoes and bring a sweater or jacket along in case it gets cold or windy.
Food & Drink
Depending on your schedule, you may hike for over 2 or 3 hours, so it would be smart to take some food and beverages along with you. Especially some water, to prevent dehydration. Badaling Section is the only section where you can buy something on the Great Wall. You can purchase some snacks and water, however, the prices are much higher than in any local store. 
It's also important to note that the only bathrooms on the Great Wall are at the entrance, so drink your water smartly as there will be no washroom halfway.
Useful Extras
Though you can probably make an assumption of what the weather will be like depending on the season, it's good to be prepared. An umbrella is a popular and useful accessory as it can protect you from both sun and rain. It's also recommended you wear sunscreen and take a pair of sunglasses along for some additional protection. 
And, of course, be sure to bring a smile and enjoy the view as you trek over one of the Wonders of the World!
Looking forward to enjoying the Great Wall Of China on your trip? Book a private car with driver to get to the Great Wall and enjoy your own private tour. You can book an English speaking tour guide. Take advantage of online discount and book today!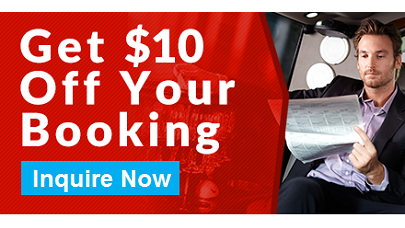 ---
OUR TOP AIRPORT TRANSFER CITIES

If you find this blog useful, please feel free to share it!