A Business Traveller's Shenzhen City Guide
Business By China Car Service Comments Off on A Business Traveller's Shenzhen City Guide
If modern day technology had a home, it would likely be Shenzhen. There aren't many big cities in the world where a walk through the city centre is filled with ads pointing towards some form of new technology. Strolling through the city, it becomes apparent that Shenzhen's beating heart is digital. It's no secret that China is an electronic manufacturing powerhouse, and nowhere in China is that more apparent than Shenzhen. If you're a part of the technology industry, chances are, you'll need to prepare for a trip to Shenzhen at some point. Our business traveller's Shenzhen city guide is here to help you move around and enjoy your time in one of the world's fastest growing cities.
Let's Start With The City's (short) History: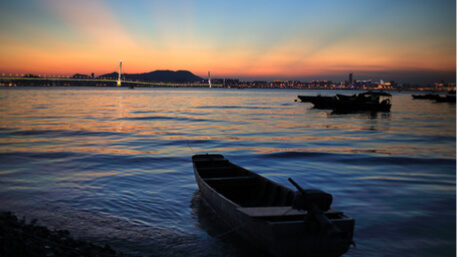 For decades, Shenzhen was little more than a fishing village whose economy was almost entirely dependant on the coastline bordering the town. During the 1970's however, China as a whole was gripped by a desire to be involved in the growing global economy. It was decided that one of the easiest and most lucrative ways of getting involved would be to open their doors to Western business within designated 'Special Economic Zones' (SEZ) across the country. The zones would allow China to test Western approaches to business within controlled regions. Shenzhen became the first SEZ in China, and the results have been remarkable. 
Located a mere 40 km's from the ever popular Hong Kong, Shenzhen quickly started getting the attention of Western tech companies. Offering a growing and cheap local workforce, made some of major players in the tech industry begin moving their headquarters to Shenzhen. It didn't take long for more businesses to follow which made the city attractive for entrepreneurs as well for those seeking work. Soon this resulted in the cities population growth. Today, a staggering 14 million people call the city home, making it one of the richest cities in the world with the highest per-capita income in China. 
Where To Stay On Business: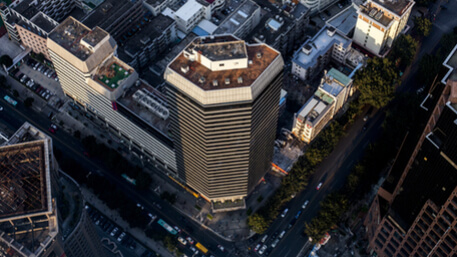 If you're heading to Shenzhen to visit a factory manufacturing your electronic or other products, staying in the outer suburbs of Shenzhen is a good idea. As in any major city in China, large scale factories are located on the outskirts of the city where there is a lot more space available. 
If however,  your interests are centred purely around electronics or tech companies, the city centre is where you'll want to be. Huaqiang Bei is the city centre's business hub, with some calling it the tech industry's 'Wall Street'.  One of the better hotels in the city centre is the Huaqiang Plaza Hotel. The staff are accustomed to western travellers visiting on business and are well equipped to any requests you might have during your stay. There is also the added bonus of a Starbucks and fast food chain at the ground floor of the building, offering familiarity for visitors not accustomed to the local food on offer. There is also a remarkable view at the top of the hotel. For those who visit Shenzhen regularly, the views from the hotel rooftop will illustrate just how impressive, fast-paced and advanced this city is. 
Shenzhen also offers some of the world's most recognisable hotel brands, such as Hilton and the Westin. If you're looking for luxury and convenience, some of the best choices are:

The hotel's fully equipped business centre, with conference rooms, workstations and secretarial services on offer are a big draw for frequent business travellers. The hotel also offers breathtaking  views of Hong Kong and the Shenzhen river.
Everything you would expect from a five-star hotel. Luxury and convenience on offer when you need it, but the hotel's vicinity to the city's business districts makes it the most popular stay for business people.
Shangri-La Hotel, Shenzhen occupies a central location within the Luohu central business district and is a short walk to Shenzhen railway station and Luohu Border. The Shangri-La is often considered the best hotel Shenzhen has to offer.
6 km away from the Shenzhen CBD, in the popular Futian district. Wyndham Grand Hotel attracts many business travellers  for most of the year and provides a luxury stay for all the guests.
Shenzhen CBD can be chaotic at times but the Futian Shangri-La offers tranquillity amongst the chaos. It is conveniently located in the Futian Central Business District and just a stone's-throw away from landmarks such as the Shenzhen Convention and Exhibition Centre, Ping An Finance Centre, Shenzhen Stock Exchange, etc.
If all else fails, however, Shenzhen has a growing network of Airbnb accommodation available as well. With business in mind, most visitors choose to stay within the confines of the city district, close to their office or client meeting points but that's not to say Shenzhen has nothing to offer outside of the city.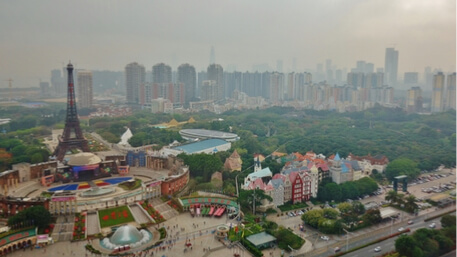 Window of the World, is a popular and fun place to visit all year round. The theme park offers nearly 130 replicas of worldwide famous landmarks. In a whistle-stop tour, visitors can see the Statue of Liberty and Sydney Harbor Bridge before lunch, then take a leisurely stroll to Mount Fuji before stopping in to throw a coin into the Trevi Fountain and admire the architecture of Gaudi's Parque Guell. As in Paris, the Eiffel Tower dominates the skyline, and nearby, the Palace of Versailles and the Pyramids jostle for attention. Window of the World isn't the only 'theme park' in Shenzhen. The OCT, or Overseas Chinese Town is a cluster of areas on the outskirts of Shenzhen that will keep visitors busy for days. With Shenzhen's primary bus stations and train stations, plus the harbour within the OCT zone, it's easily accessible whether you're coming from Hong Kong or the city centre to enjoy a meal or take in some of Shenzhen's sights and sounds.
A private airport transfer is the safest, quickest way to get from Shenzhen airport to your hotel.
China Car Service is a trusted transportation service helping foreign business travelers for almost two decades. We provide door-to-door service at competitive prices. 
Make your journey stress-free and contact our 24/7 team at Bookings@ChinaCarService.com with questions, or get a quote below.  Use this promo code: 10CARBLOG to get a $10 discount on your 1st service.
How To Stay Connected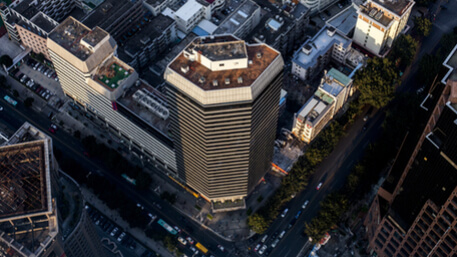 Before hopping on the plane and making your way to any of the chinese cities, you should be aware of the internet censorship present throughout China. In today's business world having a good, fast and reliable internet connection is critical, especially during a business trip. 
Staying in touch with your co-workers, partners, supervisors, etc. while out of the office is crucial. 
Emails, websites, maps, Skype, Whatsapp or any other apps you use to stay in touch with work contacts or family members back home aren't likely to work in China without a VPN. Downloading a VPN providing app like ExpressVPN  will help continue receiving all the relevant information and updates while in China and to connect across all the platforms you regularly use.

Overcoming The Language Barrier
If you're visiting Shenzhen to meet with vendors and possible future partners for the first time, they'll generally assume you don't speak any Mandarin or Cantonese so how they react to you often depends on largely their confidence and ability to speak English. Luckily, Google translate has an offline version available, which you can download before entering China, that can help get your message across and avoid unnecessary confusion. Without it, you might have to get creative when getting your message across in a meeting. For more tips on how to overcome the language barrier, check out this blog post.
Using A Calculator
Many of Shenzhen's business travellers are in the city meeting with vendors who'll be supplying their next range of electronic goods. It's not uncommon for your vendor to keep a calculator on the table, often illustrating to use it when communicating order numbers and prices. 
Exchanging Contact Details
Nearly every Chinese vendor or manufacturer carries a business card with them. In Shenzhen, you're likely to be asked for one in return if your vendor provides you with his. Before heading to Shenzhen, it is recommended downloading and signing up for WeChat, whose headquarters are in Shenzhen. WeChat is a widely used app throughout China and is useful for daily chats to payment and document transfers. Swapping your WeChat details is a great way to follow up and keep in touch with your vendors.
Shenzhen's Quirks
If it's your first time visiting Shenzhen, you're likely to be surprised by certain cultures present in the city. Western visitors are often a bit shocked at the local customs, so brace yourself before you arrive:
Trash
Grabbed a coffee on the way to your meeting, and looking for a bin to throw it in? You will be surprised to find out there are hardly any bins in the city centre! Remarkable as that may be, the city actually hires people to collect rubbish on the streets. Recycling is a big initiative and economy in itself in Shenzhen, the trash left behind by people on their morning walk to the office is cleaned up remarkably quickly.
Spitting
Perhaps the biggest quirk a western visitor will have to get their head around. In social and business environments it's considered acceptable to spit into a container without anyone batting an eyelid. That's not to say your vendor or client will be doing so within a high profile meeting you've travelled halfway around the world to attend, but it is something you'll be exposed to during your stay. 
The Lunchtime Power Naps
It's safe to say that power naps are taken very seriously in China. After having lunch, many Chinese people take their power nap, which is usually half an hour to an hour long. Employees everywhere begin to pull out beds from under their desks or simply find a comfortable place to lie down. Offices turn off all their lights, and for about an hour the entire company rests in a calm, silent darkness. If you decide to take a walk down the street during a lunchtime break you'll see people sleeping everywhere! Nevertheless, as soon as the clock hits 2pm, the lunch break is over and everyone is back to work.
The "Byow Byow Byow" Women
A walk between meetings through the city will often see you encounter women standing near busy intersections yelling out "byow byow byow" to the people passing by. They are offering a service to provide tax paperwork in exchange for purchase credits. Another little bit of local colour that makes Shenzhen such an interesting place.
Smoking
In China, it's still quite common for people to smoke in public, in shops, in hotel rooms, even in restaurants. Unless you've managed to get a specifically non-smoking hotel room, it's quite likely that your room will still carry the aroma of previous guests' smoking habits.
Personal Space
There is hardly any personal space when trying to travel from one place to another using public transportation. If you want to get through a crowded space, don't wait for people to subtly move aside and let you through, because you might be waiting a long time. It's custom to just move in the direction you want to go without stopping, slipping past others as you move along. 
Getting Around
Getting from point A to point B anywhere in China is a challenge most days. Those familiar with the city and seeking comfort without the chaos, that usually occurs in the public transportation, usually make use of a car service where safety, reliability and customer satisfaction are guaranteed. However, if you'd like using public transportation, there are several options:
Using The Metro
The Shenzhen Metro is one of the easiest ways to get around if you choose to make your own way about. The train terminals and stations are announced in both English and Mandarin, meaning you'll be able to get around without too much confusion. The tickets are cheap too, depending on how far you're travelling, tickets will cost you between 2 Yuan to 11 Yuan. The only obvious downside to using the metro is that you will be doing so in one of the world's busiest and most populated cities. If you need to get to a meeting during peak times, be prepared for long queues and large crowds.
Taking The Bus
Shenzhen has a remarkable 10,000 buses making their way through the city every day. Considering the majority of the city is still relatively young, the bus network is relatively good. Far better than other major cities like Beijing or Shanghai. The difficulty with using the bus, however, is that they are horribly crowded for most hours during the day. It's the cheapest way to get around for locals, and it shows. Whilst the actual bus stops are announced in English, the time tables showing departure times, bus numbers and lines aren't. The last thing you'll want to do is miss a meeting you've travelled so far for because you hopped on the wrong bus.
Using A Taxi
Taxis in Shenzhen are well regulated, the official ones at least. There are a number of 'fake' or unlicensed taxis operating in Shenzhen often looking to take advantage of newly arrived visitors. The fake cabs are normally prevalent at tourist hotspots like border crossings or major hotels and restaurants. 
The licensed taxis are fairly nerve wracking to ride in as is. The taxi drivers often don't speak English, and in some cases don't necessarily know the location you have shared with them. The use of GPS system is non existed among the drivers which makes them rely mainly on the memory of all the street names and routes in the city. So it is not uncommon to be asked in Chinese to explain the area where your address is situated, which for many foreign visitors can be a true challenge. 
Using A Bicycle
Shenzhen does have a brilliant bicycle initiative active throughout the city where riders can rent a bike for however long they need by scanning a QR code on the back of the bike with their WeChat account. The access stations are conveniently positioned by metro stations, shopping malls and city attractions.
Shenzhen is one of China's most attractive cities. Covered in local parks, with beautiful scenery surrounding everywhere you look, and as such it's no wonder that it has quickly established itself as a global powerhouse.
If you're planning a trip to Shenzhen, take advantage of our online discount (click the image below) and book your private car and driver now! Make your journey stress-free and contact our 24/7 team at  Bookings@ChinaCarService.com.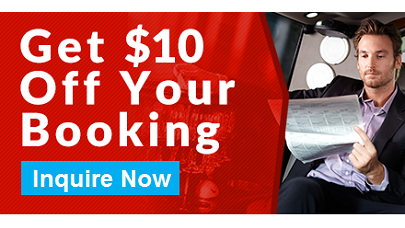 ---
OUR TOP AIRPORT TRANSFER CITIES

If you find this blog useful, please feel free to share it!