China Train Travel Tips For Business Travelers
Getting around China can be tricky for first time visitors. The language barrier, cultural differences, and crowded public spaces are a challenge to those not accustomed to China's intricacies. If you're planning a business trip to the East, you may be considering taking a high-speed train. Especially, if you're planning on traveling to several relatively nearby locations. To anyone familiar with China's public transport system, it's not a surprise when trains or flights are delayed. However, high-speed trains tend to be a very popular choice among locals due to their mostly timely departures and expeditious service. Therefore, a glance through popular guides from travel experts like Man in Seat Sixty-One or the Travel China Guide will agree that the high-speed trains in China are a great option for travelers. If you do choose to take a train during your trip in China, this guide may help you with some useful trips.
How Do I Book My Tickets?
Buying tickets for the first time can be tricky and sometimes a pain for travelers. For the most part, you'll only be able to buy one-way tickets. Meaning, you'll likely have to buy your return ticket once you've arrived at your destination city. There will be special counters for ticket purchasing. They'll usually be at the front of the station, past security. Keep an eye out for "foreigner" labeled windows that are occasionally available with English speaking staff. Don't be surprised, however, if there isn't one.
However, if you'd like to avoid the long queues, you can try booking online. Sites like Seat 61 have a number of suggestions for agents and websites who'll book your trips as much as 90 days in advance on popular routes (thanks to long standing agreements with the train companies). Websites like Ctrip are useful for western travelers looking to use the trains.
The tickets are priced based on two criteria: destination and seat comfort. Therefore, you might be surprised to find that you can purchase a "standing ticket" in a "non-air conditioned" cabin. On the same train, you could also purchase a "comfortable sleeper" in an "air conditioned cabin." The sleeper cabins are generally neat and tidy and far quieter than the general seated sections. 
Tickets go on sale for any route only between 10-20 days prior to departure. So, if your flights are already booked for a trip to Beijing in 6 months time and you're hoping to use the train, you'll need to wait to book your seats. 
Before booking your train tickets though, here are some tips likely to make the process a bit easier:
If you're booking your ticket at one of the train stations, only cash or UnionPay bank cards are accepted.

Don't forget your passport. Without ID, you won't be allowed to buy a ticket.

If your passport number doesn't appear on the ticket, it's fake. There are a number of scam artists online and in person hanging around train terminals, be sure to research the company you're buying your ticket from before you do so.

Don't be ambitious, thinking you'll be able to book a sleeper cabin at the train terminal an hour or two before the train departs is unlikely. If you're after a certain cabin or class, book ahead of time.

If you're on a D or G class train, and you happen to miss it – Don't worry, you'll be able to catch the next available train on the same day without charge.
Preparing for a trip east? A private transfer is the safest, quickest way to travel from airport to the city. China Car Service is a trusted transportation service helping business travelers for almost two decades. We provide door-to-door service at competitive prices. 
Make your journey stress-free and contact our 24/7 team at Bookings@ChinaCarService.com with questions, or get a quote below.  Use this promo code: 10CARBLOG to get a $10 discount on your 1st service.
What Can I Expect On The Trains?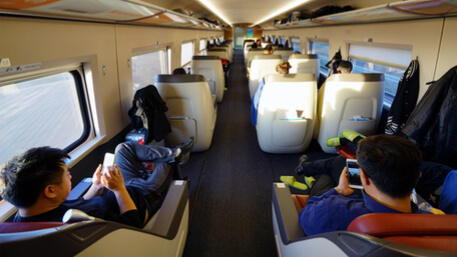 For the most part, trains are incredibly punctual throughout China and considered a safe way to get around. Most train stations are found in the center of town too. Which means, the transfer from the station to your hotel or office is never too far or difficult to arrange. The train stations can be quite interesting, as well. Newer stations, like Shanghai's train station, have a very modern style. Whereas, older stations like Beijing's Western Train Station maintain their older, unique character with large illuminated screens displaying which waiting room you should wait for your train in.
Most Chinese trains are prefixed by letters, signifying their class. The higher the letter is alphabetically, the higher the class of train. The more expensive, quickest, and most luxurious trains are usually prefixed by the letters C, D, or G.  These come with comfortable, temperature controlled rooms, plenty of legroom, laptop chargers, and TV sets.
Food and drink trolleys are wheeled along the carriages every trip. If you're on an overnight train, you'll find the canteen carriage is open for most of the night, allowing you to stock up on snacks and water, should you need to.
Regardless of which train class you're traveling on, here are some important tips to remember before you jump on board:

China is the world's most populous nation, so long winding queues to board the trains shouldn't come as a surprise. Don't wait to board the train, rather do so as soon as you can.

Keep your passport handy. You'll need to present it, along with your ticket (make sure your name and passport number appear on the ticket) before the train gets going.

Your bags will need to go through security scanners at the entrance to every station.
Anything Else I Should Know About?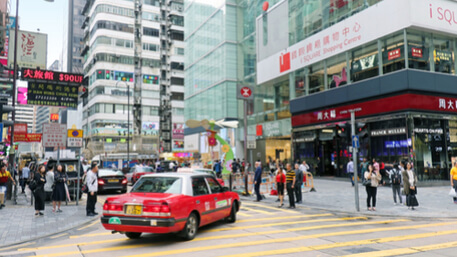 If you're visiting for the first time, communicating can be challenging. Be prepared. If your company isn't providing a translator during meetings, Google Translate has a useful offline feature.
The driving culture is erratic, foreigners deciding to drive themselves around usually regret doing so. Taxis aren't without their hassles, either. Scams are prevalent in tourist or foreigner hot spots, and even the legitimate drivers often refuse to pick up tourists for fear of not understanding them. Those who visit China on business, often make use of car services to get around. They'll guarantee getting you to your destination safely and on time. Also, if booked in advance, the car services can also provide English speaking drivers, for your convenience.

Prepare for your trip to China today!  Take advantage of US$10 OFF online discount and book private airport transfer service anywhere in China. Simply click the image below: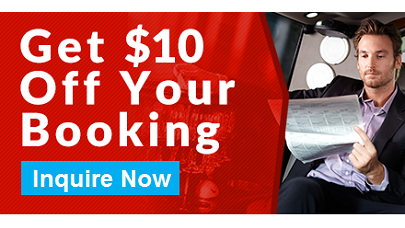 ---
OUR TOP AIRPORT TRANSFER CITIES

If you find this blog useful, please feel free to share it!
Have you opted to take a train instead of a plane in China? Do you have any other useful tips for using trains in China? Leave us a comment below and share your experiences!